Before stepping into the construction industry as a business owner, it is necessary to learn how to become a roofing estimator because it's not only about the remarkable aesthetic appeal of your residential or commercial buildings but a matter of protecting humankind and its surrounding environment with all the living and nonliving components.
It's pretty natural to judge something at first glance. For instance, whenever you invite your relatives, friends, neighbors, or colleagues to your place, the overall appearance of your home's exterior, particularly roofing and peripheral walls, is the first thing they notice – willingly or unwillingly. You can say that observing the first impression of anything or anyone is an involuntary component of a human's natural behavior.
Who is a Roofing Estimator?
Roofing estimators are professionals who are efficient in supervising the roofing construction projects and provide budgetary estimates to their clients regarding many factors, which include the type of building and suitable roof installation method, usage of appropriate equipment, manual and technical services, and kind and material of the roof concerning the locality of the state and most importantly the short and long-term fluctuations in weather and climate respectively.
The role of roofing estimators might sound like a straightforward process. Still, it's a complete rollercoaster ride that one master by consistently gaining experience and insight into becoming a roofing estimator. This job necessitates sharp focus, precision, and hands-on training.
Step by Step Guide: How to Become a Roofing Estimator?
Knowing the inside out of how to become a roofing estimator requires you to master pertinent expertise to excel in the field and identify certain defects, such as hail damage roof. However, such proficiency without soft skills would go in vain. Therefore, it is essential to invest your time and efforts in grasping the necessities without which your survival in the construction industry would come at stake as a job-holder and business owner.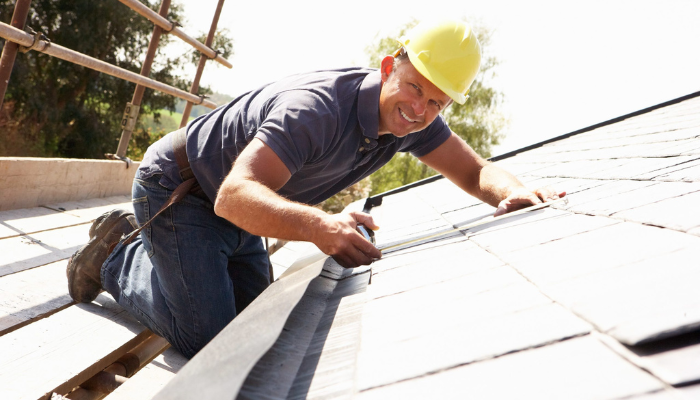 The fundamental requirements to becoming a roofing estimator are as follows:
1. Qualification
No matter what field you're interested in or what skills you have, the importance of having a college degree will always make you stand above all. No college or university offers a degree specifically in roofing estimation.
Nonetheless, completing a bachelor's degree in relevant disciplines, such as civil engineering, construction management, quantity surveying, and business administration, can help you become an ardent roofing expert.
2. Skills and Technicalities
Roofing evaluators need to equip themselves with technical and soft skills to succeed in their roles. While technical knowledge makes you an expert in the roofing process, soft skills navigate the intricacies of the business landscape. Proficiency in both areas is equally crucial because a deficiency in either of them negatively impacts the other, leaving prolonged damage in the long run.
In addition, enrolling in courses, such as technical drawing and mathematics, and getting hands-on practice on specific software, including AutoCAD, is recommended to polish your skills.
3. Field Training and Experience
Although there's no necessity to accomplish formal training on how to become a roofing estimator, it is mandatory to have relevant training and experience in the field. Job openings enlist a minimum experience of at least five years, while some high posts also demand an experience of up to ten years.
If you're interested in the construction industry and looking forward to dealing with roofing, start gaining experience before entering the practical field. For this purpose, you can join hands with the company of roofing contractors and work as a trainee or an intern.
Besides pursuing education, you'll have opportunities to practice and implement your knowledge during training. In addition, employers prefer zealous freshers or newbies in the field because they are learning, have recently graduated, and possess the most updated knowledge.
You're safe because becoming a roofing evaluator doesn't bind you to specific premises. You can begin as an intern or a labor in construction. Besides, there are many positions for you to start your professional journey, such as assisting roof installation experts, carpenter's assistants, or helping surveying experts.
4. Credentials, Certifications, and License
Your credentials, degree or diploma certificates, and license demonstrate your experience and professionalism. It instills practical and soft skills so your clients trust your abilities. Your expertise depends on how efficient your convincing power is to captivate the trust and attention of your prospective clients.
However, achieving at least one or two certifications that prove your experience is optional yet highly recommended.
5. Responsibilities of a Roofing Estimator
Roofing approximators primarily work in an office setting and less on construction sites, where they typically estimate measurements, capture photographs, and inspect projects. However, other responsibilities include:
Measuring the roofing dimensions

Calculating the prices of individual roofing materials and required services

Picking up suitable materials for each type of project

Manual and automated drawings and sketches of the roofing designs

Estimating the time required to do the job

Working in collaboration with the roofing team also includes builders and architects

Getting a

permit for roof replacement
Conclusion
Summarizing the discussion on how to become a roofing estimator, it is mandatory to gain field experience by collaborating with various organizations of roofing contractors, survey analysts, business administrators, construction supervisors, and carpenters. Whether you're a student or homeowner, you won't regret contacting the representatives of Only Roofing, who comprise the best team of roofers in Texas, because working as a roofing evaluator requires technical and soft skills to excel by availing all the possible opportunities at your doorstep as the world is restlessly advancing towards progression.