Have you wondered how to repair a flat garage roof? You must have seen or heard about the city's flat roofs– a popular choice among builders and homeowners because of their cost-effectiveness and low-maintenance mechanism. However, they are more prone to cause dreadful rook leakage that can spread like a plague and reach the internal roofing materials, deteriorating the structural integrity of your living place.
Learning how to repair a flat garage roof is mandatory because such problems can arise for many reasons. A mere water stain on the wall does not appear problematic but lays the foundation for drastic damages that may occur after weeks or months. Other damaging situations may result in flooding, condensation, molds, and rotting timbers.
If you plan to switch to another roofing design, reading about metal roof contractors would provide ample information.
Alarming Indications of Flat Leaky Roofs
Watch out for the following warning signs that may increase the chances for you to learn how to repair a flat roof garage:
Brownish or damp stains on the ceilings indicate that water has started seeping through the roof and can cause significant problems if not dealt with immediately.
If your garage has an old flat roof, the chances of its exposure to foreign elements have already diminished its longevity which is why it may start dripping or sagging.
Water trickling down the roof and garage ceilings symbolizes that the timber has started to rot, and soon you'll need an entire flat roof restoration or replacement.
Accumulation of water atop the flat roofs creates small ponds. These ponds disintegrate the chipboard decking because the water continuously drips through it.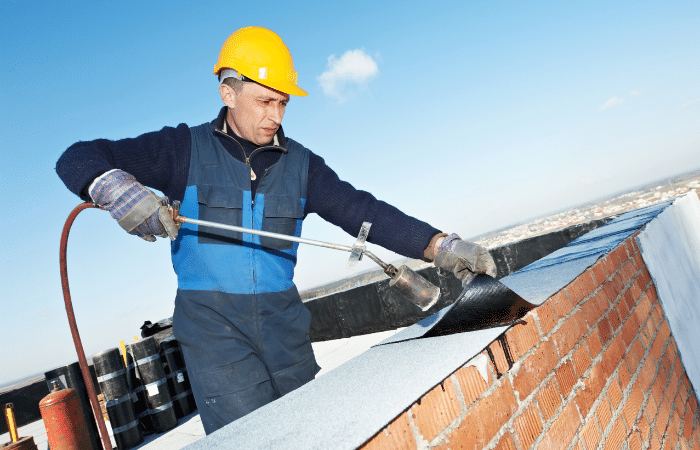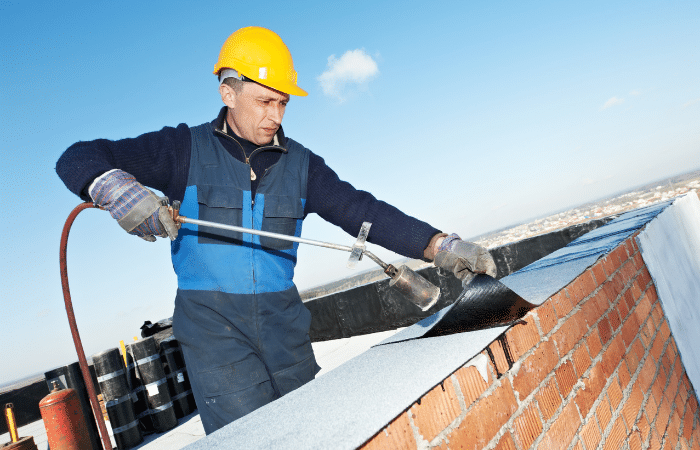 Detecting and How to Repair a Flat Garage Roof?
Detecting the exact culprit sites for a leaky roof can be either too tricky or a child's play. All you have to do is learn how to repair a flat garage roof because pitched roofs are relatively easy to mend and restore. If the ceiling or peripheral walls appear to be damp, stained, dripping, or affected in any way that hinders the efficiency of their functions, it may or may not necessarily indicate the urgency. Nonetheless, it is wise to make an informed decision to contact reliable professionals so they can eradicate the root cause of roof damage. Doing so would reduce the likelihood of prospective injuries, which would be difficult to handle without replacing the entire roofing system.
According to experts' suggestions, the best time to inspect the suspicious roofing conditions is when it has been dried for at least three days. The evening would be an ideal time of the day. The reason behind these specified timings is that with decreased temperature, the moisture trapped in the roofs and walls will start steaming as if heat is dissipating from underneath. Moreover, a dirt ring on the low spots indicates that the water previously stood there.
If you've successfully detected the right spot for roof leakage, it is recommended to spray there with a hosepipe and check if the dripping reoccurs. This method sounds weird but is highly efficient yet time-taking. Most homeowners succeed after multiple attempts because the water needs time to trickle down through roofing materials and layers. Give the process a final overlook to certify the complete absence of leaking rooftops.
Click here to read 'What happens if you do a roof without a permit?'.
How to Repair a Flat Roof Garage?
Depending on the extent of damage, homeowners must master the following skills how to repair a flat garage roof:
Applying cement and sealants is the typical yet durable way to repair flat roofs. For instance, water repellents with acrylic bases are more potent than those containing bitumen.

The former water-resistant substance is more efficient, and you can use them with a stress-free mindset even in damp weather conditions. However, dry weather offers a more friendly environment for this job.

Fiberglass mesh sheets are a more convenient option to seal the bubbles and blisters of flat roofs. They can also be used around cracked flashings or for repairing vents.

The patch repair method offers permanent fixation in which you can use a self-adhesive flashing and rubber tape to cover the affected area. Ethylene propylene diene monomer (EPDM) sticks the patch to the roof.
Conclusion
Our contractors are qualified, reliable, experienced, licensed to practice in their country, and can effortlessly handle roofing permit requirements. Learning how to repair a flat garage roof can be as simple as a 'Do It Yourself' (DIY) method or as intricate as stock markets that keep shuffling and playing with the ups and downs of the finances. Call our team of top roofers in Texas who also offer their services in the surrounding areas for your need to replace the exterior crown of your residential or commercial properties.