In these difficult times when everybody wants to help their families and support them financially it's difficult to get a good and secure job nowadays due to which many people are moving to online or remote jobs or businesses. And today we are going to discuss that if a person wants to adopt "Roofing" as a career then what type of pros and cons of being a roofer he might have in this career.
Who Is a Roofer?
A roofer is a professional person who fixes your roofs in case of any accident or installs them when you need to renovate or build your house by using the right and best quality material required for these changes so that your Efficient Roof Process can last for a long time. They look at these things carefully, examine them and then tell you the whole estimate and workers needed for this work. This is not a very easy thing to do, which is why we will discuss the pros and cons of being a roofer. If you are interested in being a roofer, you should know about this.
7 Advantages of Being a Roofer:
Being a roofer offers numerous advantages that make it an appealing career choice. Here are 7 keys advantages of being a roofer: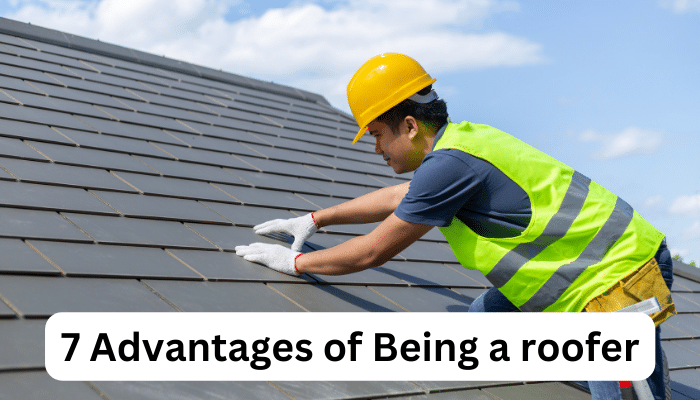 1. Remain Healthy and Fit:
Knowing about the pros and cons of being a roofer is important. Due to working from 9-5, roofers remain fit and healthy because they do heavy work and remain up on the roofs so they get fresh air which is good for their lungs and also for their body system. It makes them strong against the challenges of life and they can easily do any type of hard work.
2. Fixed Working Hours:
Well as compared to other laborers roofers are quite strict about their working hours and they can leave early if their work is done as the commission they get from this work is handsome so they do not need to do overnight or extra duties. So they can spend time with their family and make professional connections.
3. A Benefit for Themselves:
A big benefit of being a roofer is that you can renovate your roofs by yourself and it is much cheaper as compared to finding someone else to do the job for you which only saves you money and time too.
4. Decent Job as Compared to Other Laborers:
In one of the pros and cons of being a roofer, The biggest advantage of being a roofer is that nowadays people are in search of so many roofers for building houses so they need people like you who are professional and trained and it also not require any big educational requirement so you can easily do it and it is a secure job as compared to other laborers who are working on wages and then get kicked out after the work is done and their wages are also not very good.
5. Favors to Your Family or Friends:
Being a roofer is also beneficial for your family and for your friends too as you can give them favors like giving them some sort of discount if they have any work related to roofing and in return, they can do favors for you too.
6. Start Your Own Business:
You are looking for the pros and cons of being a roofer so it is not necessary that you should always work in a team worker after some time when you understand things properly and have enough money you can start your own business then it is not a bad idea to start your career like that. Where you are the boss and your team works for you.
7. Get Further Decent Jobs in the Same Field:
If we talk about present times so everything is becoming digital and if you have experience in the roofing field and you don't want to go out of your house then you can start your own YouTube channel or create a blog about roofing and all its information so that you can earn from home.
5 Disadvantages of Being a Roofer:
As we are talking about the pros and cons of being a roofer so there are some disadvantages too of being a roofer and these are the following: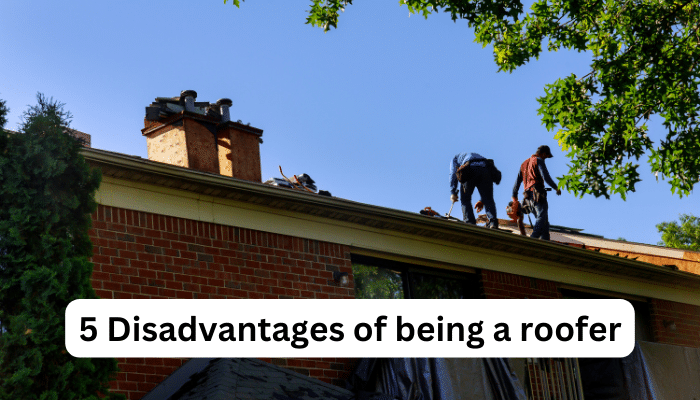 1 Physically Difficult:
For some people who want to be a roofer if they are not physically weak then they should not do it as it requires hard work and good stamina if you do not have a height phobia.
2. Dangerous Accidents:
It is very common in this profession that any worker gets into any sort of dangerous accident which might cause severe problems and they lose their lives too.
3. Long Time Health Issues:
In case of any sort of injuries or accidents, you may suffer from long time health problems and any physical disability.
4. Remote Work is Not Available:
This type of profession is not available online or remotely because there are several things to take care of even if you are a boss and work as a leader. So in that case, think again about the pros and cons of being a roofer if you want to make your career in it.
5. May Not Get Enough Money for Retirement:
You might not be able to save enough money for your retirement in this profession because the pay is low if you work for someone else.
Also Read: Everything You Need To Know About Roofing