Roofs are integral to the architecture of a building. To maximize thermal, humidity, water, sound, and fire resistance, a sandwich panel roof is a great choice that is installed in the roof claddings of the buildings. These panels stand firmly against the tough attacks of climatic conditions imposed on the roofs yet they are the most affected when they come in unfortunate contact with natural disasters such as snowfall, rain, hail storm, or even the fall of logs badly devastate the roofing. Deliberate attention is paid to the sandwich panel roof detail that should be installed as per the needs investors and designers feel for their buildings.
Sandwich panels are also referred to as composite panels. They fall under the category of material particularly utilized for the construction of industrial buildings and are available to be used for either wall covering or roof covering.
How to Install Sandwich Panel Roofing?
A sandwich panel could be either tri-layered or tetra- layered, intended to use for construction purposes. The process of installation of the sandwich panel for roof covering is divided into these sequential steps.
1. Transportation to the Construction Site
The foremost step is the transportation of the sandwich panels to the construction site which needs to be done with the help of a forklift, although, manual transportation is also doable but is an extremely prolonged process.
To transport and unload a package of sandwich panels whose length is up to 6 meters, a forklift is a powerful industrial truck used with adjustable fork widths to lift and move materials over short distances. It is also known as a lift truck and serves to raise, lower, or remove larger objects or many smaller objects in crates, boxes, or other containers. The minimum fork spacing should be 2m with a width of 150mm.
Conveyor belts and spreader booms are used to lift if the package is more than 6 meters. The appropriate distance or spaces between the belts should be 2 meters to 4 meters, and 3.5 meters to 4.5 meters for packages up to 6 meters to 12 meters and longer than 12 meters, respectively. It is recommended to avoid point supports while unloading the panels because the line of the lowest panel might get damaged.
2. Quality Assurance & Cross-Checking
Pay close attention to the structures, which should be as straight as an arrow, to which the sandwich panels will get attached because even the slightest deviation can compromise the entire process of implementation which begets the risks of How to seal a leaking roof between the joint panels, leading to wave-effects.
3. Protective Coating Removal
Sandwich panels are shielded with a protective coating to ensure their secure transportation and unloading. It is highly recommended to remove this layer before the beginning of installation of each panel.
4. Application of Sealants
PES tape is a polyester fiber textile tape which is a highly-strengthened sealant used to anchor heavy and atypically shaped objects, particularly made from metals. Various strips of this tape are adhered to the internal lining of the sandwich panels before their installation which prevents all sorts of mechanical damage to the roofs and walls.
5. Vacuum Lifts
Vacuum lifts ensure the fastest and most secure way to transfer the panels to the structures to which they'll be fastened. The first sandwich panel roof should be installed in such a way that the fasteners must penetrate its entire thickness up to the construction element.
6. Door and Window Profiles
Depending on the expertise of the professionals you've hired, the door profiles, window profiles, and skylights (on the roofs) must be installed at this step with or without the addition of extra elements to fit them. Jig-saw, reciprocating saws and nibblers are a few examples of metalworking tools which must be used to carve out the shapes of these profiles with accuracy. Equipment that requires the usage of high temperatures such as angle grinders shouldn't be used because they could deteriorate the coating for anti-corrosion.
7. Assembling Subsequent Panels
Of many other ways, one method to maximize the durability and strength of the sealant is to press down and fix the sandwich panel roof in a subsequent manner which minimizes and ultimately eliminates the occurrence of thermal bridges.
The places where panels are joined together without using sealants, such as horizontal adhesion between two panels, or a joint between a wall panel and a roof panel, must be sealed with materials such as butyl or low-pressure polyurethane foam; masking treatments including wind braces, ridges, and plinths serve as a finishing touch-up.
Advantages of Composite Panels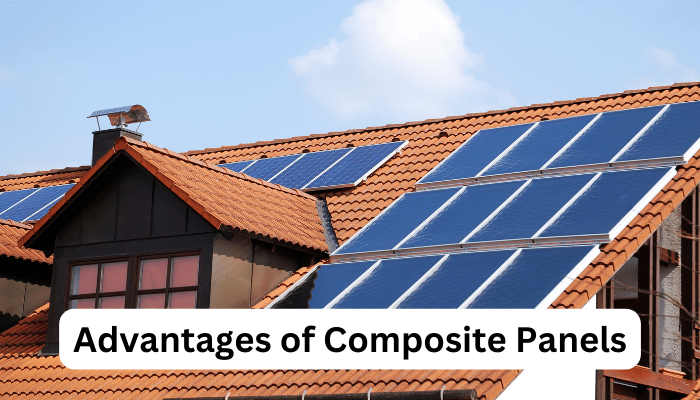 Besides being a valuable addition to the aesthetics of your properties, these are the following advantages of composite panels:
The flexibility of the sandwich panel roof makes it ideal to shape because of its malleability.

These panels are cost-effective and long-lasting, saving the prospective expenditures of roof repair and replacement.

Composite or sandwich panels are low-maintenance; specialized cleansing agents are not required; rather mild soap and water can easily wipe all the dirt and dust away from them.

The material with which these panels are made makes them environmentally friendly. For instance, if they are manufactured with aluminum, they become recyclable.
A sandwich panel roof is the best bet if you're aiming to give your buildings a seamless finish. These panels are prioritized since they can easily be customized according to your preferences. Only Roofing certifies
Read More: How to do Roofing Step by Step?