Despite making hefty financial investments to protect your residential and commercial properties, have you ever invested a few minutes to think about what is roof maintenance? Or what does roof maintenance include? If yes, it demonstrates a responsible concern that every homeowner must have. If not, there's nothing to worry about because people often neglect the importance of an annual roof investigation unless challenging damages require your urgent attention.
The roof replacement process is entirely different from regular roof maintenance; both require adept expertise for restoration. Therefore, searching for experienced and reliable roofing contractors and professionals for the said projects is recommended.
However, if you possess the required excellence to accurately inspect what is roof maintenance, and what it includes, and perform the relevant job on time, it will save you a lot on budget – but don't forget to look for nearby assistance. You can ask any family members, experienced roofing neighbours, and acquaintances to assist you in this project.
Why is Roof Maintenance Important?
Timely maintenance of your home's roof demands a half-yearly or annual investigation to spot the culprit sections contributing to a lot of damage, including imbalanced attic ventilation, ceiling leaks, moisture stains, or countless colonies of microbial growth. Doing so not only protects your house's external and internal environment but also increases the building's value, which is an essential considerable factor if you're running a business in the real estate or property dealing industry.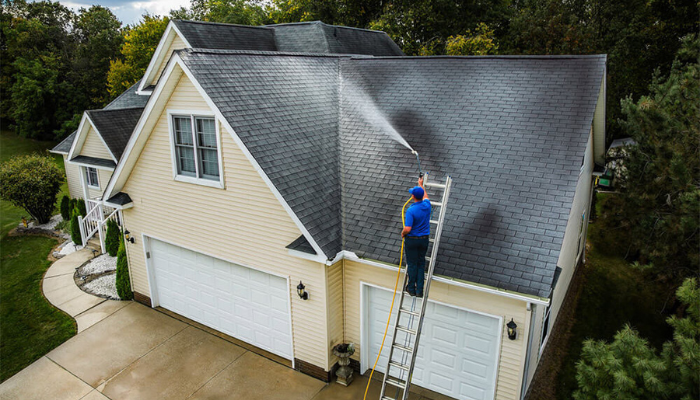 Understanding what is roof maintenance and learning how to carry it out effectively saves you a lot in a variety of ways by preventing further damage. Regular monitoring of the exposed components, peripheral walls, fascia, soffits, and roof ridge vent keeps the roofing integrity in check to avoid the likelihood of going for an entire roof replacement.
Furthermore, timely roof maintenance is one of the best ways to protect the construction assets of your home for which you have already invested your blood, sweat, and tears. Some aspects of safeguarding the architectural integrity of your home require minimum effort that you can easily do yourself. However, if you're shaky, unsure, or afraid of heights, always consider hiring reliable pro roofers.
An Essential Guide: What is Roof Maintenance?
Learning what is roof maintenance requires a detailed insight into its various components as it enhances the curb appeal and assists in the regulation and sustenance of a remarkable house exterior. In general, keeping a well-shaped home roof requires your attention in the following areas:
1. Debris Removal
Debris can get collected over the roofing of your commercial and residential buildings, and the most common reason behind it is weather fluctuations. Water, dirt, dried leaves, and broken branches of trees are a few typical examples. In addition, snow damps can cover the entire roofing structure that requires immediate removal, or it will melt down and compromise your home's overall health and longevity.
You can easily remove debris but it requires mounting the ladder and standing on the roof for a thorough inspection. If left unattended, it can give rise to countless more considerable damages.
2. Mold Removal
Water accumulation over the roof gives rise to fungal, mildew, and mold growth which are capable of rapid multiplication to spread to the other areas of the rooftop. Using suitable chemicals, such as sprays, can help remove these molds, but you need to be careful as it can cause fungal infections. If this widespread seems uncontrollable, seek professional guidance to remove it from the roofs.
Moreover, if you're an inhabitant of northern hemisphere areas, moss and algae growth can cause large clumps of their colonies that may curl the corners of the shingles, exposing the roof underlayment to potential environmental harm.
3. Gutter Cleaning
You must be more mindful or remember the significance of gutters or culverts installed in the roofing system. Uncleaned gutters can cause moisture build-up and increase the risk of further hazardous indications. You can gently remove the debris by using either a hose or climbing a ladder and removing it manually. Both methods require strict precautionary measures to be followed to avoid the likelihood of accidents and mishaps. Feel free to contact experienced and reliable roofing professionals if you're anxious.
Click here to read about aluminum siding repair near Texas and surrounding areas.
Final Wrap Up
Summarizing the discussion on what is roof maintenance and what it includes, it is inferred that regular or annual investigation of the suspicious sections can make the task relatively easy and less time-consuming as compared to the lengthening of the job that might arise when regular monitoring is avoided till the appearance of alarming indications. As your home's roof is a perfect defence mechanism against the invasion of harmful foreign elements, and natural aging can affect even the best designs, it is essential to start shielding it on time before it gets too late!