Indian Springs Tx residential roof replacement Projects Details
7 Cranberry Bend, Spring, TX 77381, USA
Mr. Amy Curm
In the quiet suburb of Spring, Texas, at 7 Cranberry Bend, a homeowner faced the inevitable task of replacing their roof. Mr. Amy Curm turned to OnlyRoofing, a reputable roofing company known for its dedication to quality and customer satisfaction. What followed was a seamless process that not only transformed the roof but also strengthened the bond between the homeowner and the roofing experts.
Upon receiving Mr. Amy Curm's request for a roof replacement, OnlyRoofing swiftly mobilized its dedicated team. The cornerstone of their approach is a meticulous inspection, and in this case, it revealed the necessity for a comprehensive roof replacement. This crucial step laid the foundation for a project that would not only meet but exceed the client's expectations. OnlyRoofing believes in transparent communication, and so began a series of detailed consultations with Mr. Amy Curm. The homeowner was guided through various options, including materials, design, and style, with a focus on providing not just solutions but valuable insights. Cost-effective alternatives were explored, ensuring that the client remained well-informed and in control throughout the decision-making process.
As the last shingle fell into place, Mr. Amy Curm expressed gratitude that echoed sentiments shared by countless satisfied customers before. OnlyRoofing doesn't just fix roofs; they build lasting trust and relationships. The success of this project reinforced the company's mission, proving that craftsmanship and client satisfaction are not mutually exclusive but integral to the OnlyRoofing experience.
Understanding how to nail roofing shingles is essential to building...
Read More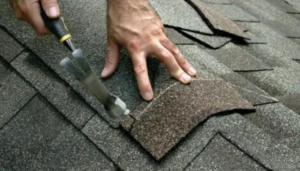 To guarantee safety and precision, meticulous planning is required to...
Read More