Roof Replacement Cornerbrook Pl Spring, TX
43 Cornerbrook Pl, Spring, TX 77381
Mr. Ranee Stocks
We received a call from Mr. Ranee Stocks of 43 Cornerbrook Pl, Spring, TX 77381. Our roofing team swiftly responded, sealing the deal for a roof repair that went beyond the ordinary. At OnlyRoofing, we don't just fix roofs; we elevate your entire roofing experience.
Addressing specific needs such as hail damage and siding repair, along with meticulous soffit and fascia repair, our team worked diligently to resolve these issues in just 1-2 days. We understand the urgency of a secure and aesthetically pleasing roof, and our experts ensured that Mr. Stocks' concerns were not just met but exceeded.
Our commitment to excellence and customer satisfaction is unparalleled. The completion of the project was not just a repair; it was a transformation. As the last nail was hammered in, Mr. Stocks' satisfaction mirrored the sentiments of many happy customers. The joy derived from our team's effort and expertise is our special reward. OnlyRoofing doesn't just fix roofs; we craft solutions that elevate and delight. Trust us for roofing excellence, where satisfaction is not just guaranteed – it's celebrated.
Understanding how to nail roofing shingles is essential to building...
Read More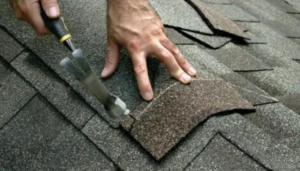 To guarantee safety and precision, meticulous planning is required to...
Read More