Alden Bridge House Roof Replacement Project
10 Cheshire Glen Ct, The Woodlands, TX 77382, USA
Mr. Barbara Gonzalez
Embarking on a journey with OnlyRoofing, Mr. Barbara Gonzalez of 10 Cheshire Glen Ct, The Woodlands, TX 77382, sought a reliable partner for a home roof replacement. Our dedicated team, driven by a passion for perfection, meticulously inspected the property, recognizing the imperative need for a comprehensive roof overhaul.
In our pursuit of transparency and client empowerment, we engaged in detailed consultations with Mr. Barbara Gonzalez. We shared invaluable insights into materials, design options, and cost-effective solutions, ensuring that every decision was well-informed and aligned with the client's vision. The completion of the project in a swift three to four days not only highlighted our efficiency but also underscored our unwavering commitment to delivering top-notch quality within agreed timelines.
As the final shingle found its place, Mr. Barbara Gonzalez's expression of gratitude resonated with the satisfaction echoed by our delighted clientele. OnlyRoofing doesn't merely fix roofs; we establish enduring trust and relationships. Our ethos revolves around open communication and client satisfaction, setting a distinctive standard in the roofing industry. For all your roofing needs, place your trust in OnlyRoofing, where the intersection of quality and satisfaction defines our service. 
Understanding how to nail roofing shingles is essential to building...
Read More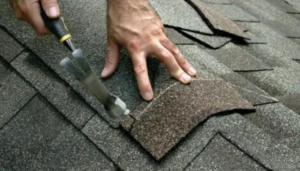 To guarantee safety and precision, meticulous planning is required to...
Read More