Regular inspections are required to guarantee that your roof remains in good condition. But how does a roofing contractor do an inspection? The roof is one of the most significant components of your property. Lone Star State citizens don't need to worry because our residential roofing services in Texas will protect you and your family from the undesirable weather and save you money on costly repairs.
Let's unfold the detailed process of how does a roofing contractor do an inspection to offer you an insight into a roofing contractor's diligent job.
Roof Inspections: What You Need to Know
Before untangling the intricacies of how does a roofing contractor do an inspection, it is important to understand the need to call experts to detect roof issues.
Your roof is subjected to a variety of weather conditions all year, from searing heat to heavy rain and even the rare hailstorm. This frequent exposure can cause wear and tear over time. If it is not recognized and handled promptly, it can result in major damage and costly repairs.
Regular roof inspections can detect issues before they worsen, save you money, and protect your home's structural integrity. They may also assist in extending the life of your roof, ensuring that it continues to serve you well for many years to come.
How Does a Roofing Contractor Do an Inspection?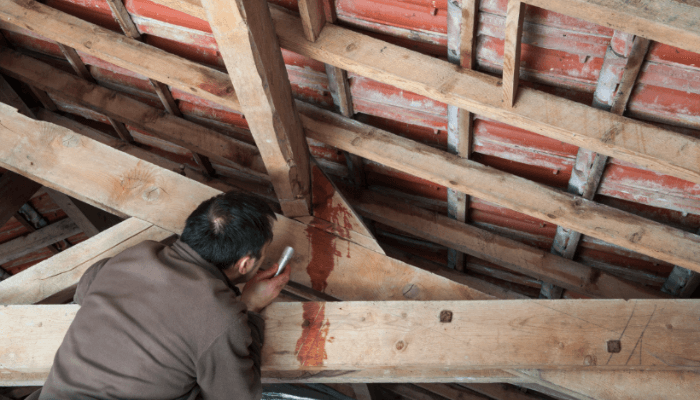 Learning how does a roofing contractor do an inspection is a systematic technique taken by the experts to safeguard you and your belongings. Typically, the procedure starts with an initial meeting between you and the roofing contractor. You can express any concerns you have regarding your roof during this conversation, such as leaks or missing shingles. The contractor will also inquire about the age of your roof, the material it is made of, and any past repairs or replacements.
Following the conversation, the contractor will conduct an external inspection of your roof. It includes a visual check of the roofing material, flashing, gutters, and downspouts. They will examine for damage indications, including cracked or missing shingles, broken flashing, and clogged gutters.
In addition, they will frequently undertake an interior assessment to inspect your property for evidence of water damage or leaks. These are frequently found in the attic. Water stains, mildew, or moist insulation are all telltale signs of a roof problem. It is an important step in discovering issues that may not be evident from the outside.
Detailed Evaluation of the Building's Structure
In-depth roofing analysis includes the evaluation of the shingles for cracking, curling, or buckling. The process is extended towards flashing, which is critical for keeping water from entering the roof. Flashing that is damaged or loose will be fixed or replaced.
Proper ventilation is critical for the health of your roof. Contractors will check that the attic ventilation system is operational. If your roof contains chimneys or skylights, they will be given additional care to ensure they are correctly sealed and do not leak.
Recommendations and Documentation
Home inspectors will document their findings during the roof inspection, taking notes and pictures. They will then provide you with a full report outlining the present state of your roof as well as any necessary repairs. This report is an excellent resource for determining the condition of your roof and arranging any necessary repairs.
Conclusion
Contributing your little efforts to learning how does a roofing contractor do an inspection guarantees the durability and performance of your roof. They take a systematic approach, thoroughly inspecting both the outside and inside, finding problems, and presenting you with a complete report and recommendations.
If you feel that your roof is in need of repair, don't hesitate to schedule an inspection with Only Roofing's Roof Contractor The Woodlands, TX.