When it comes to assessing the durability of their architectural structure, it is important to consider whether you should opt to re roof or go with a complete roof replacement process because maintaining the ceilings of your residential and commercial buildings is something homeowners and business tycoons in the industry of real estate value the most.
In addition, visually appealing roofs are critical to adding remarkable value as it is the best way to earn more profits by generating quick sales because it is something in which you've already made huge financial investments. That's why you need to grasp the information on what is considered a new roof and the key differences between reroofing vs roof replacement.
It is considered a great option if there is a complete absence of distorted and soggy shingles and no signs of water or debris accumulation that may have caused serious damages not only to the roofs but also to the walls of your homes, putting even the ventilation system at stake.
What Does Re Roof Entail?
Normally, reroofing is done only on buildings having a single layer of pre existing shingles. Most of the standardized regulations of the countries allow a maximum of up to three layers of shingles.
The most cost-effective and fastest way to restore the aesthetics of your buildings and to install additional layers of a protective barrier is to re roof them, which also serves to safeguard your homes from the damage such as moisture stains on the walls, leaky roofs or ceilings. However, it does come up with its pros and cons.
Cost of Re Roof vs Roof Replacement
Generally speaking, the cost of the roof process is diversified, and it varies according to the types of maintenance your homes demand, required labor time and materials, and your area of residence. It is quite obvious that replacing an entire roof, which ranges from an in-depth investigation of damages caused by the deteriorated roof to removing and adding new shingles with additional necessities such as underlayment or moisture barrier, is quite a tedious and expensive task as compared to reroofing your homes which only involves the installation of new shingles over the existing ones.
Factors Affecting Reroofing Costs
The following factors prove the re roofing process to be easier, quicker, and more reliable as compared to the tedious task of the entire process of roof replacement.
The number of stories and slope of your home impact the costs to re roof your home. For instance, a house with two stories and a steeper slope requires strenuous labor to be put into while re roofing as compared to a single-story building with a less steep slope.

The material with which roofing shingles are constructed plays a significant role in determining the costs to reroof your buildings. Asphalt shingles, being the most cost-effective, wouldn't be a financial burden at all if compared with metal shingles that are not friendly to reroofing plus categorized among the luxurious shingles for roofing.

The extent of complexity of the architectural design and style of a roof affects the amount being invested in reroofing, which also demands the workers to equip themselves with safety harnesses because they need to stay and work on the roof for a longer time.

The prices are subject to increase if your home has additional features such as chimneys or skylights.
Click here to avail yourself of the best services offered by roofers in Texas.
Benefits to Re Roof Your Homes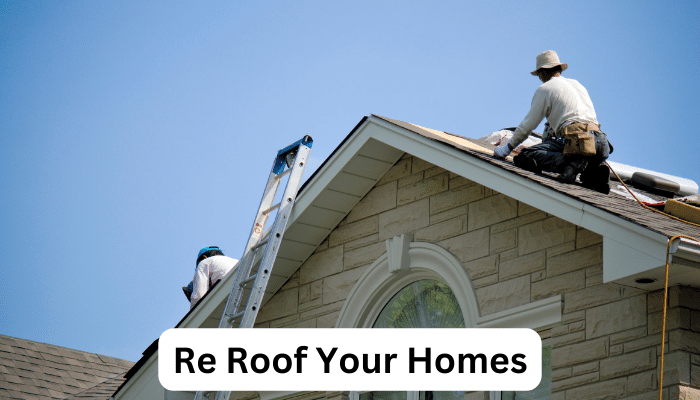 Reroofing your houses offers many benefits, especially to homeowners whose home repair budgets are moderate for now or not enough to withstand the burden of entire roof replacement.
1. Enhanced Aesthetics
An additional layer of shingles is the quickest way to enhance the aesthetic value on a massive scale that greatly impacts the potential customers towards your commercial and residential properties. This step will significantly attract the right type of buyers. Ensure that your roof complies with the local health and safety codes, which avoids renegotiating the price to account for the cost of the new roof.
2. Increased Affordability
There's no need to tear off the old shingles or do major work on the underlayment material, which makes reroofing naturally a cost-effective process as compared to roof replacement. This option is best suitable for low to moderate-income households.
3. Prolonged Peace of Mind
Appropriate and professional installation of shingles in the process of reroofing reduces the burden of roof replacement and provides you with prolonged peace of mind because such roofs can easily withstand for up to thirty years.
4. Fastest Way to Restore the Roofs
To re roof your house is the fastest way, especially for business owners who want to minimize any downtime or disturbance in roofing work. Many experienced roofers can lay additional layers of shingles over the entire roof within a single day, which ensures outstanding outcomes and also keeps the whole process as convenient as possible for your family.
Final Wrap Up
To conclude, re-roofing is a process of installing new shingles over already existing ones, and it is done if the roof of your home is in overall good shape and does not require any replacement. While roof repair or restoration can be performed on either a section or the entire roof, reroofing is a one-time job and must be done completely on the roof instead of targeting its small portions. If you're a homeowner with minor issues or roof leakages, which typically occurs when the roof reaches out of its lifespan but the roof has retained its overall good shape, it would be a better idea to re roof your properties instead of completely replacing the roof.