Slate is one of those materials that speaks for its imperishable enticement and permanence. Its mere presence radiates utmost elegance and longevity. Slate roofing is nearly indestructible and primarily used for historical buildings because its lifespan is not measured in years or decades but centuries. However, it is essential to focus on 'nearly' as the need for slate roof replacement may arise anytime due to negligence towards its regular maintenance.
Roofing installation is costly, especially when you're planning to invest in materials that can withstand harsh conditions over tens and hundreds of years. Timeless progressions in the construction industry are essential to stay in unity with the drastic changes in climatic conditions unfolding over time. 
What is a Slate Roof?
Slate roofs have gained immense popularity due to their long-lasting quality and resilience. For centuries, the exterior top envelope of buildings – roofs have endured the harsh calamities of time and climate. Its durability is instilled in the natural characteristics, comprising finely grained metamorphic rocks with exceptional resistance and hindrance to moisture accumulation, temperature instabilities or variations, and harsh impacts of unfriendly environmental factors.
The likelihood of slate roof replacement is automatically decreased if appropriately installed, organized, and maintained with regular investigations, which will surely make it last for decades by making it a true testament to the craftsmanship of slate roof repair specialists.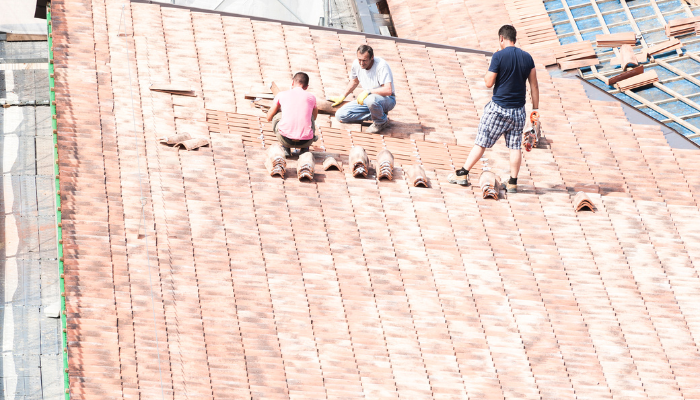 Considerable Triggers for Slate Roof Replacement
The time for slate roof repair or replacement may knock on your doorstep anytime if it is left unattended year round. The following are triggering factors for which you may need to think about slate roof repairs or replacement:
1. Increased Age
The signs of wear and tear become more notable if roofs are not maintained with proper care and attention. The deteriorating indicators are subjected to prominence over time when exposed to harsh windy strikes, heavy rainfall, or snow. In addition, the extreme temperature of the Sun and frigid environments also contribute to a decrease in the efficiency of its durable lifespan, casting negative impact in the form of shingle cracks, chipping, and dislodgement.
2. Morphological Development
Renovating your home after some years (or when necessary) is a wise and informed decision. Still, there may be some structural alterations that may compromise the integrity of your home's roof. The stability of an roof process, particularly slate material or shingles, reduces with substantial modifications in the overall house structure, such as settling or expansion, the combined effect of which may lead to misalignment and incongruence of the roof with the entire building's frame.
3. Disastrous Indications
Natural disasters are inevitable; even the most durable roofs become unable at some point to withstand firmly. Different kinds of storms, broken branches of the trees, water accumulation giving rise to microbial or fungal growth, and various foreign yet undesirable factors can inflict damage upon individual shingles or tiles, which may call for the urgent need for slate roof replacement.
4. Inefficient Installation
Improper roofing methods, such as hammering the nails in incorrect places, inadequate flashing, or misalignment in the pattern of shingles, indicate a screwed-up roof installation, giving an early rise to the necessity of repairing or replacing a slate roof, which becomes mandatory to make up for the past erroneous practices.
Slate Roof Replacement Process
Slate roof replacement is a meticulous process requiring the integrated effort of experience, artistry, precision, and efficiency. The following steps are an overview of how to effectively carry out a long-lasting yet affordable roofing procedure that stands firm against all the foreign elements harmful to the structural architecture of your living place:
1. Detailed Assessment
The journey of slate roof replacement begins with an in-depth evaluation and investigation of the current roof. You can scrutinize the top yourself if you're confident enough and not afraid of heights. If you have even the slightest doubt, it is recommended to hire experienced professionals so they can identify the root cause and need for the installation of new shingles and other roofing materials.
2. Roofing Material
This step needs a sharp eye into the details because roofing materials widely vary from each other in terms of colour, texture, and matching with the existing roof sections.
3. Removing Old Slates
The professionals are adept enough to follow a carefully curated plan to delicately remove the damaged slates or shingles without harming the underlying structure.
4. Structural Restoration
Addressing vital concerns during the process, such as the need to redo the underlying materials, is crucial to making your home secure by all structural means. It also involves renovating the sagging areas and certifying that the foundation base for the roof is stable for the upcoming one.
5. Installing New Slates
An excellent combination of classic and modern techniques ensures an appropriate slate roof replacement process by carefully positioning and aligning the slates in accurate places. This step is the actual illustration of the craftsmanship that guarantees functionality and aesthetics.
6. Final Touches
A flourishing roof design needs major and minor final touches, such as weatherproof sealants or layers, to certify that every seam is sealed and the slates are in complete unity.
Conclusion
Slate roof replacement is a labour of love that pays enormous respect to traditional designs and embraces innovations necessary to adapt to this fast-paced construction landscape. Only Roofing's slate roofing contractors near Texas, United States, anticipate your call to bestow you and your homes with the utmost security that preserves the distinct architectural style of your home and guarantees you peace of mind with its enhanced curb appeal and exceptional longevity.