It is important to know what to expect from roofing contractors if you're searching about what is included in roof replacement because most people see roof restoration only as a matter of installing shingles but its concept is far more than that.
Prerequisites to Roof Replacement
To know what is included in roof replacement, the following tasks need to be accomplished before re-roofing your residential or commercial buildings.
1. Initial Inspection
The foremost step to take before replacing the roof is to thoroughly check if there's an emergency to repair or reinstall the new shingles. Planning to do partial roofing instead of full replacement isn't a worthy bet as it is recommended to avoid replacement if the damaged area on the roof is less than 100 square feet.
2. Materials and Equipment
To save your trips to hardware stores, it is important to pen down all the materials and equipment that you need to repair the roof. For this purpose, extend your research as much as you can along with consulting a trusted roofing contractor.
3. Tools Shipment
You can either visit the store yourself or place an order for all the required materials and tools to prepare for the installation of new roofs. You might be familiar with the fact that your tools will be delivered a few days after the placement of the order, and so the job will begin either on the same day or the very next day.
4. Tearing Off the Old Roof
Using a pry bar or roof shovel, the old roof can be torn off for the types of roof installation of a newer one. Paying close attention to the current roofing, remove either the target section or the entire roof. The prolonged process of wear and tear will expose the roofing deck, also known as sheathings. At this point, in-depth observation is required if the decking also needs some sort of repair because only uniformed sheathing ensures the proper positioning of new roof shingles. In addition, the protective coverings present between the shingles and decks, that is, underlayment may also be exposed or worn out while segregating the previous ones.
What is Included in Roof Replacement?
A strong and durable roof promises a safe shelter for us to live in peacefully. The roofs should be sturdy enough to withstand the ups and downs of harsh climatic conditions and, at least, lower magnitudes of natural disasters, such as hurricanes or earthquakes. To learn what is included in roof replacement, a homeowner should be aware of:
The types of roofing materials that would be most suitable to your buildings.

The basics of a roofing estimate such as the price range of various materials, supplies, and labor.

Extra labor charges are subject to the ongoing weather conditions

Time required to accomplish the task

The specific duration to claim the warranty provided by roofing contractors.
Safety Considerations for Roof Replacement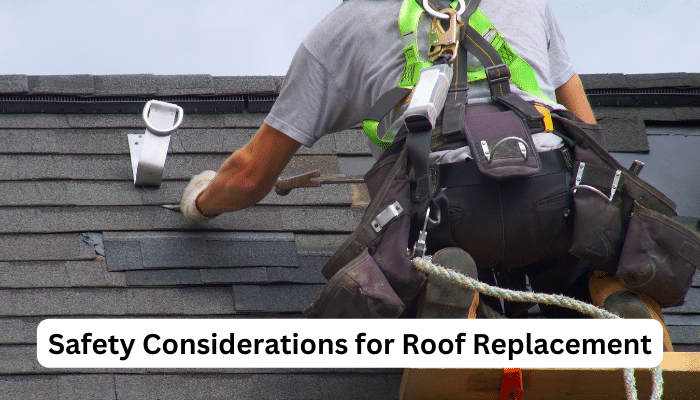 Whether you're replacing the roof or have hired professionals, it is important to shield yourself with relevant personal protective equipment, commonly referred to as PPE, because your safety must be prioritized at any cost.
If you've no idea how to work with the tools, it'd be better to go through all the user manuals and try practicing a little before the beginning of the actual job.

As the utilization of powerful tools such as air compressor nail guns, staple guns, hook blades, or sharp razors, is required, it is suggested to hire a professional if you're skeptical or afraid of using the equipment.

It's a good option to hire roofing professionals and even better if you plan to acquire, adopt and polish your skills to replace the roof. For this purpose, it is highly recommended to never work alone and always ask for assistance from your family members or neighbors.

Despite the stability of the ladder, always ask someone to hold it firmly whenever you're climbing up.

Wearing a helmet throughout the task can benefit you in countless ways. It prevents head injuries if you become a victim of accidental slips or falls while drilling nails, tearing the roof, or mounting or dismounting the ladder.
Calling your friends and keeping a check if someone is experienced in what is included in roof replacement could prove to be an efficient addition and the job can be done way faster. Adept personnel are trained to work in all sorts of weather conditions but you're not. Therefore, it is advised not to work on your home roofs if there's a hail storm or raining outside. The same safety measure must be applied on windy days. It is better to wait till the time when the weather normalizes. Also, try your best to work on roofs in clear daylight.
Also Read More: Is Roofing Dangerous?