Roof Replacement Spring, TX
99 N Misty Morning Trce, Spring, TX 77381
We received a call from Mr. Nahuel Faiura at 99 N Misty Morning Trce, Spring, TX 77381. Our roofing team visited that place and closed the deal for roof replacement. At OnlyRoofing, we believe in a seamless process, and our recent project exemplifies our commitment to excellence.
Our meticulous inspection revealed the need for a comprehensive roof replacement, prompting our dedicated team to initiate a step-by-step process. Through detailed consultancy sessions in which we provide invaluable insights to Mr. Nahuel Faiura into materials, design options, and cost-effective solutions. Clear and communicated transparently with Mr. James, ensuring he was well-informed at every turn. Our commitment to open communication fosters trust and understanding, key elements in delivering a successful project.
From the initial assessment to the final nail, our team's expertise shone through. Our professionals not only met but exceeded expectations, ensuring the project was completed promptly merely up-to  two to four days. The general completion day was a testament to our efficiency, showcasing our dedication to delivering quality results within agreed timelines.
As the last shingle fell into place, Mr. James expressed his gratitude, a sentiment echoed by many of our satisfied customers. The satisfaction derived from our team's effort and expertise is our special reward. We don't just fix roofs; we build trust and lasting relationships. Your satisfaction is our priority, and our commitment to excellence sets us apart in the roofing industry. Trust OnlyRoofing for all your roofing needs – where quality meets satisfaction.
Understanding how to nail roofing shingles is essential to building...
Read More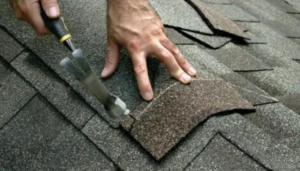 To guarantee safety and precision, meticulous planning is required to...
Read More