Roof Replacement Tanager Trail, TX
46 Tanager Trail, Spring, TX 77381
Mr. April Hichs
Mr. April Hichs from 46 Tanager Trail, Spring, TX 77381, reached out to OnlyRoofing for a roof replacement. Our dedicated team conducted a meticulous inspection, identifying the need for a comprehensive replacement. Through transparent communication and detailed consultations, we provided valuable insights to Mr. April on materials, design options, and cost-effective solutions. The project, completed in a swift three to four days, showcased our commitment to efficiency and quality within agreed timelines. As the last shingle fell into place, Mr. April Hichs gratitude echoed sentiments from our satisfied customers, reinforcing OnlyRoofing's mission to not just fix roofs but build lasting trust and relationships.
We prioritize open communication and client satisfaction. Our commitment to excellence sets us apart in the roofing industry. Trust us for all your roofing needs, where quality meets satisfaction.
Understanding how to nail roofing shingles is essential to building...
Read More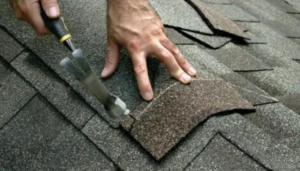 To guarantee safety and precision, meticulous planning is required to...
Read More